<hero description="About http://www.mosspeedrun.com" imagename="" cropposition=""></hero>
Welcome to the Mos Speedrun 2 Wikia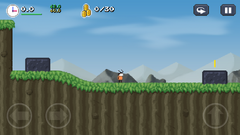 Mos Speedrun 2 is a pixel-precise Jump'n'Run available for iOS, Android, and Mac and Windows via Steam. The game was released in October 2015 and is the successor of Mos Speedrun from 2011. Both games are indie games developed by physmo http://www.mosspeedrun.com .
The game consists of 30 level in 5 worlds. Each level has 5 different goals to achieve: finishing the level, collecting all coins, beat a speedrun time, finding a hidden skull and discovering a day charm.
Guides
Categories
Latest activity
Ad blocker interference detected!
Wikia is a free-to-use site that makes money from advertising. We have a modified experience for viewers using ad blockers

Wikia is not accessible if you've made further modifications. Remove the custom ad blocker rule(s) and the page will load as expected.